Mineral: Fluorite, Quartz
Locality: Moritz II Mine, Sewen, Thann-Guebwiller, Haut-Rhin, Grand Est, France
Dimensions: 26 X 18 X 18 cm

Description: BLUE STORY Hello, in an article* published in 2016 by Alain Martaud in Rocks and Minerals, this one said: "In the 1920s, the Moritz II mine was briefly worked for fluorite but proved uneconomic and was abandoned. A few specimens of intense blue cubes to 4 cm on ferruginous quartz exist. In 1974 some local amateurs braved entry to the old workings and found a good pocket before being interrupted by dangerous flooding. Some of the specimens recovered are of top quality, but they are very few, and most collectors have never even seen one. From the quality of the specimens this may be considered a world-class site" *Alain Martaud (2016) Blue Fluorite from France, Rocks & Minerals, 91:3, 212-233, DOI: 10.1080/00357529.2016.1138424. To link to this article: http://dx.doi.org/10.1080/00357529.2016.1138424 This third sample from the Moritz II mine in Sewen (Alsace, Vosges) was extracted just after the previous one published in FMF recently. In the fluorite vein, the geode greatly enlarged revealing an incredible landscape of dark blue crystals. The difficulty was to extract it from an extremely tough quartz matrix without blowing up the cubes. All of the quartz crystals were coated with iron oxide, more on the ones at the base of the geode than on the ceiling. After 2 days of work, drilling the quartz with an electro-pneumatic drill with drills of 80 cm and 20 mm in diameter, we came to the end of this fluorite without too much breakage. It is 26 cm high, 8.1 kg and the fluorite part 16x16x16 placed on quartz crystals colored by a thin layer of iron oxide. The whole base is in quartz. Unfortunately, the larger crystal, which was damaged during extraction, has a 5.7 cm edge. Almost at the same time, another exceptional piece was extracted which consisted of a plate approximately 25x25 cm covered with blue fluorite cubes on both sides making several cm edges and which was attributed to my team-mate. Today I have no idea where it is and it will be very difficult to find out as his ex-owner has been deceased for a few years. The other surprise of the day was the discovery of another exceptional piece. Unfortunately, I will not be able to show it to you because between the two weekends, that of its discovery and that of its extraction, it had disappeared. I was to return to Strasbourg on the Monday when I was a student. It was discovered following the extraction of the sample presented today. Following its removal, I bent over the geode to see the rest: extraordinary !! A small mound of bright yellow colored quartz about twenty cm in diameter was topped by several interlocking multi-center intense blue cubes, the largest of which must have been at least 6 cm ridge. It was a late Sunday night, we were all very tired from a long and energy consuming weekend and decided to come back the following Saturday to extract the wonder. Evil took us, the following Saturday at 9am, the geode was empty! Nothing more than the base of crystallized quartz. We were me, my father, my teammate, and a younger accompanying us, apparently totally devastated. Sewen's adventure ended there. 25 years later I have learned the hard and ruthless truth. I was 20 in 1974 and certainly a little naive. My "friend", co-teammate, RS (God bless his soul, he's no longer of this world), had returned with the young man to extract in solo the piece in question without telling us a word about it. And we who thought that this beautiful sample had been destroyed. In fact, it still exists, many know it and its current owner is a French mineralogist well known to many of us. When you discover such beauty, her exact and intact photo remains etched in your memory for life. I do not know the exact route that this sample has taken during all its years, it has passed into the hands of great collectors of fluorite, but it has every chance of ending its life one day in a large museum!! Fortunately, it will remain in the heritage of French minerals in good place. It just goes to show that you should never put off until tomorrow what you can do the same day. A little story from the past remembered with great serenity. The best for 2021 to all "pebbles", it should be better than the one that just passed away. PS: Honnestly, the blue color of the sample changes a little bit depending on the color of the background when we go from black to white on the shelves in my collection.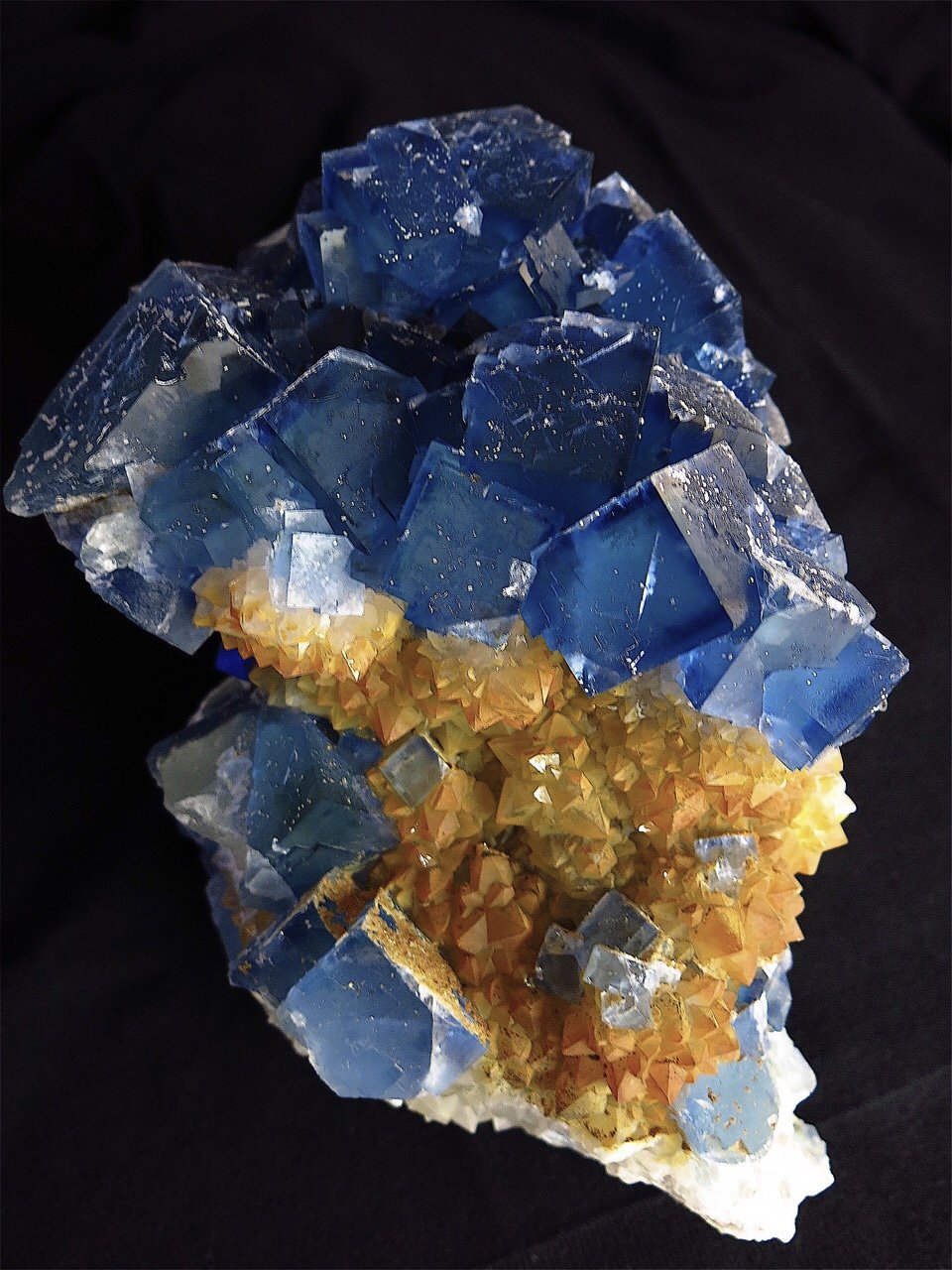 All pictures, text, design © Forum FMF 2006-2021